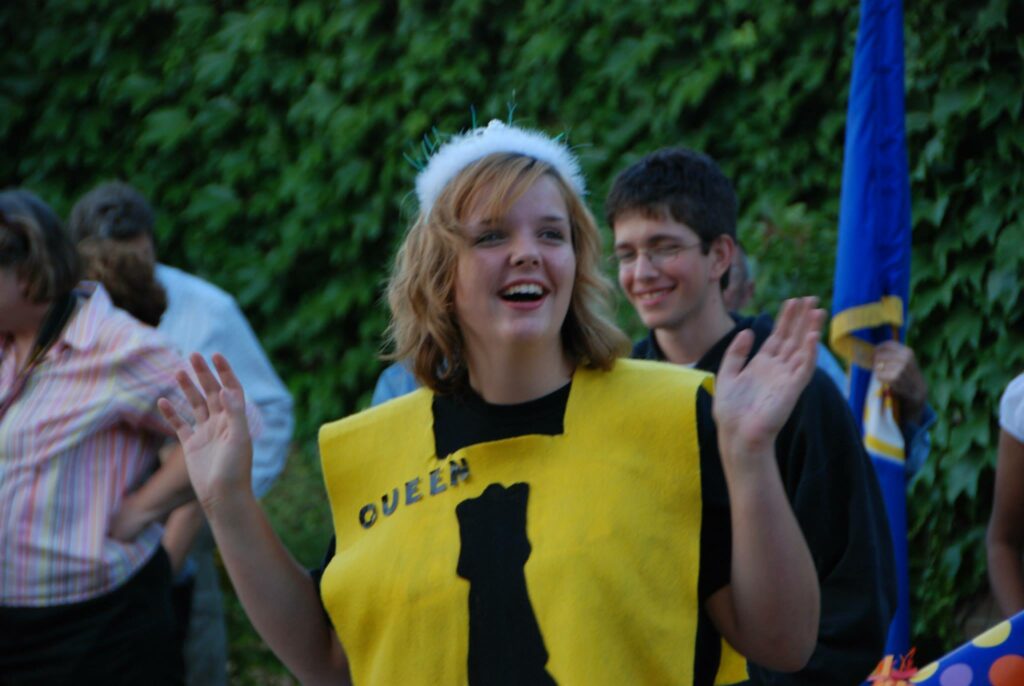 ANARAE – you have been on my mind, as you always are, this time of year. Sadly, we can't spend your 29th birthday together, so I have chosen to type out my thoughts and, even if I can't hold you while you read them, perhaps they will wrap themselves around another, warming them in hope or help or healing, as you were so apt to do, in even the most unlikely of moments.
I don't mean in the conventional, familial, expected-because-we-share-blood kind of way. I don't mean it in the sappy, manufactured, Hallmark way. Nor in the distant, 1000-yard-smile way that you probably remember from your childhood as I, a decade older, ran off to chase girls my age leaving you behind to work on your chess game. And most definitely not in the sentimental, 'love-what-you-can-no-longer-have,' kind of way.
See, love has taken on an entirely new meaning in my life of late. It feels as if a fortress of stone has crumbled down from around my heart, opening me up to a new type of existence, one defined by gratitude, peace, and joy. My entire being has begun moving into this space as if it were a seasoned traveler taking a new trail in an ancient wood. As I feel my way through fresh, yet familiar surroundings, I have begun to taste the reality of all you have taught me, of how you have cared for, even carried me through, so much darkness over the eight years since your passing, a darkness that I all too often blamed on your untimely departure.
But, as you know, nothing which happens in the past can be at fault for actions taken in the present. I am sorry for carrying so much pain and heartache in your name for so many years. I know now it was your presence, your spirit, and your compassion that, through it all, was gently and patiently warming the cold embers of my heart inside a healing hearth.
Today, looking back with eyes you helped open, I struggle even to see the sorrow separate from the saving.
I love you through and through. I love you raw – unguarded, unfiltered, and unapologetically. I love you with the same love that created the universe and moves it still – day, night, heaven, hell, pleasure, pain, and everything in between. And, even though we fell short of consciously sharing this bond while you were still here, I need you to know I feel you now.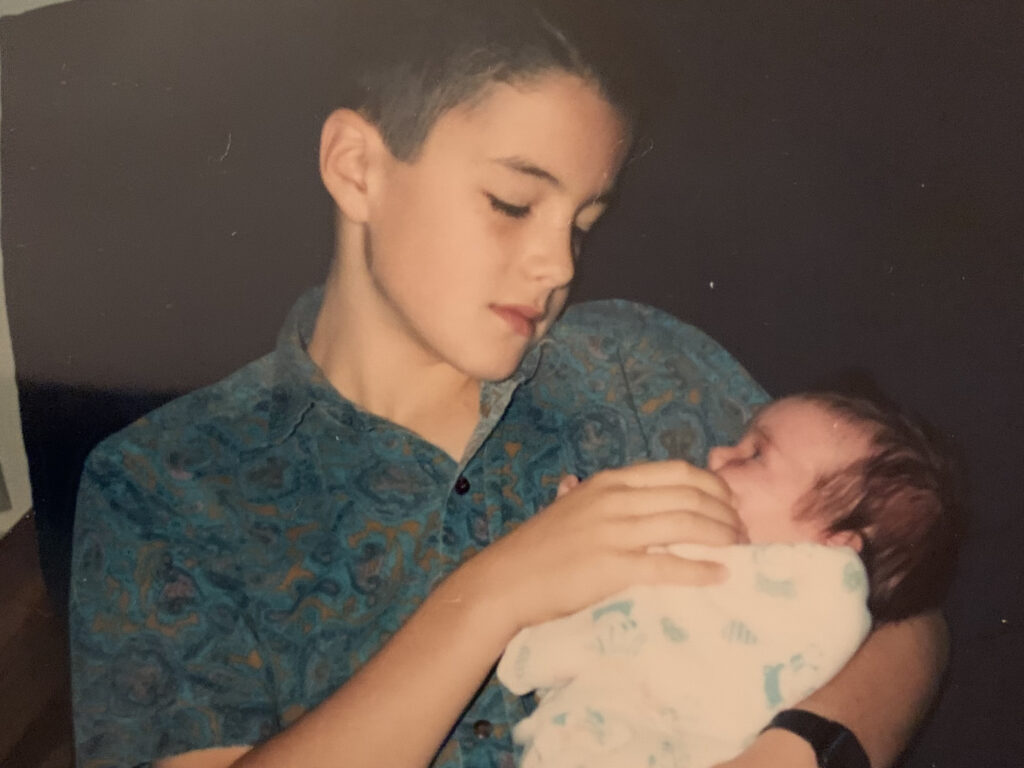 But more than my feelings about you and life as a whole, I want to share back what you've taught me, my top three transformative takeaways if you will. Call it my moment to admit a small but rewarding defeat as if to finally throw my hands up and say, 'Yes Anarae, I hear you.' See, even this stubborn ole mule can grow up for the better, despite, or rather because of, your unrelenting nagging. So, for your birthday this year, I give you my top three, attempting yet again to take credit for your work while throwing but a few sparse accolades back in your direction: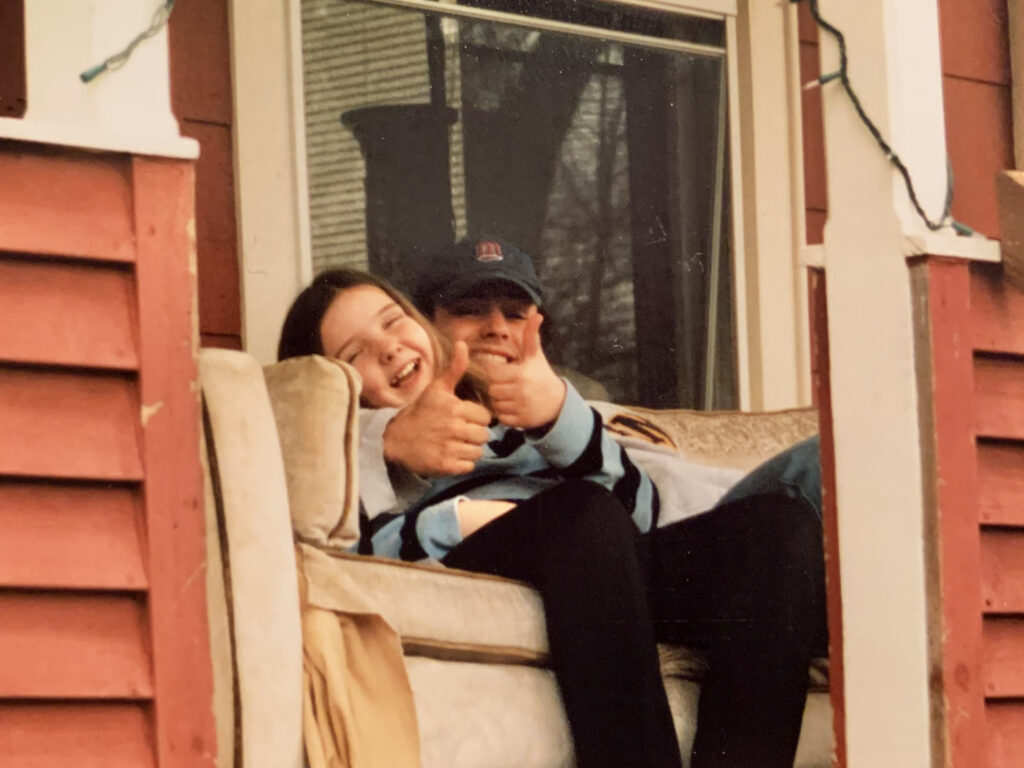 Anarae – you are the most accepting person I have known and that is not just my opinion, everyone agrees. You had a way of drawing out the best in people and, like a self-fulfilling prophecy of awesome, pointing to it and saying, 'See, I knew you had it in you!' This was most especially annoying when you did it to me despite my best efforts at resistance.
Maybe it was the ten-year age gap, but in our years together, I had a different relationship with the concept of acceptance, one which seemed to be hardening like petrified wood as I 'matured.' So, it would be fair to say neither of us were surprised by my hesitation to embrace you dating anyone, much less an ex-con whom you were convinced was on a path of reformation, one whom you believed you were chosen to support. You accepted, I resisted.
Harder yet to accept was the 'I-told-you-so-reality' of his taking of your life less than a year later, a pill so alive with hatred, agony, and utter despair it took several years for me to fully digest and almost swallowed me whole more than once.
Back then, I had yet to learn that you become the ideas and emotions you swallow, the spiritual equivalent of the old adage, 'You are what you eat.' I was clinging desperately to my idea of justice, as well as the emotions of what should have been had you just listened to me, had the bar not let you in as a minor, had the cops acted more quickly, had the world been a better place. And on and on. I felt righteous, believing that if I simply held on tighter to my version of what should have been that I could actually change the past. If only I just kept pushing.
So push on I did. I pushed my wife of eight years to divorce me, I pushed away from my three young children for almost a year, I missed my brother's wedding, went broke, and landed in jail for DUI. Hatred of my history was eating my future from the inside out. I needed to change my diet, it was time to let go of my resistance and begin exploring the acceptance that came so naturally for you.
'Hatred of my history was eating my future from the inside out.'
It wasn't easy, especially as stubborn as I am, and as wounded as I was, but I began to let new ideas and emotions in which lead to new experiences, new beliefs, and in time, the new way of being I describe above. So much so, that a month ago, on the anniversary of your death, I finally accepted the man who took your life, and fully forgave him.
No more hate. No more agony. No more despair. I could breathe again. I was both lighter and stronger than before. Strong enough to accept that the differences between Shavelle and me (pictured above) pale in comparison to the likenesses and that only love has the power to heal us both. Turns out, accepting a difficult history and forgiving the man who took so much from our family wasn't surrender at all. In fact, it may turn out to be the greatest triumph of my life for never again will darkness be able to gain such a footing on my heart.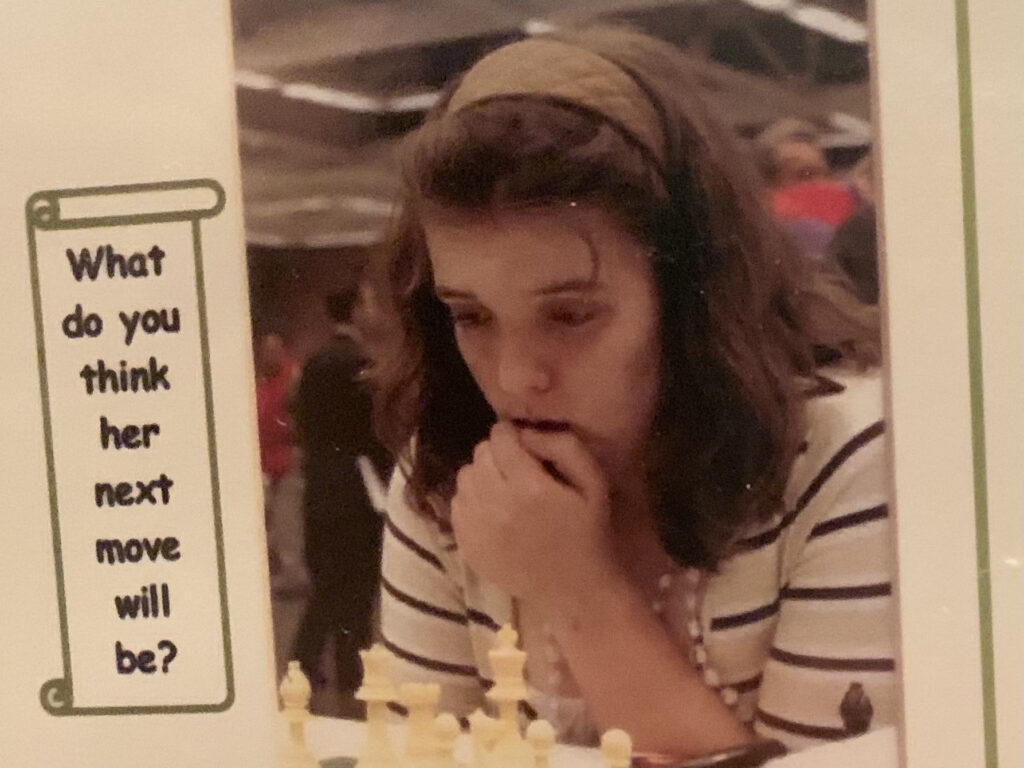 Anarae, you mastered chess at a very young age and stuck with it, going on to compete nationally and racking up an impressive array of hardware in the process. But it wasn't the trophies you were after. You loved chess itself, checkmate being just a passing mile-marker on the road of endless games, growth, and gratitude.
The irony being that the most celebrated masters of any discipline tend to be the ones who, rather than obsessing over the podium, relish in the repetition of relentless practice, and focus on the gritty day-in-day-out grind and the lessons it has to offer. You mastered this approach not just in chess but in life as well.
When you were tutoring younger kids in math or chess, you focused on the relationship, not the test result, working to ensure the student felt safe and secure enough to succeed. It was the same with sports and musical endeavors, you innately sought out and nurtured the tender moments, surfacing the sweet from the sweat of struggle. You knew how to work hard and have so much fun in the process that, from the outside, it looked like you were hardly working.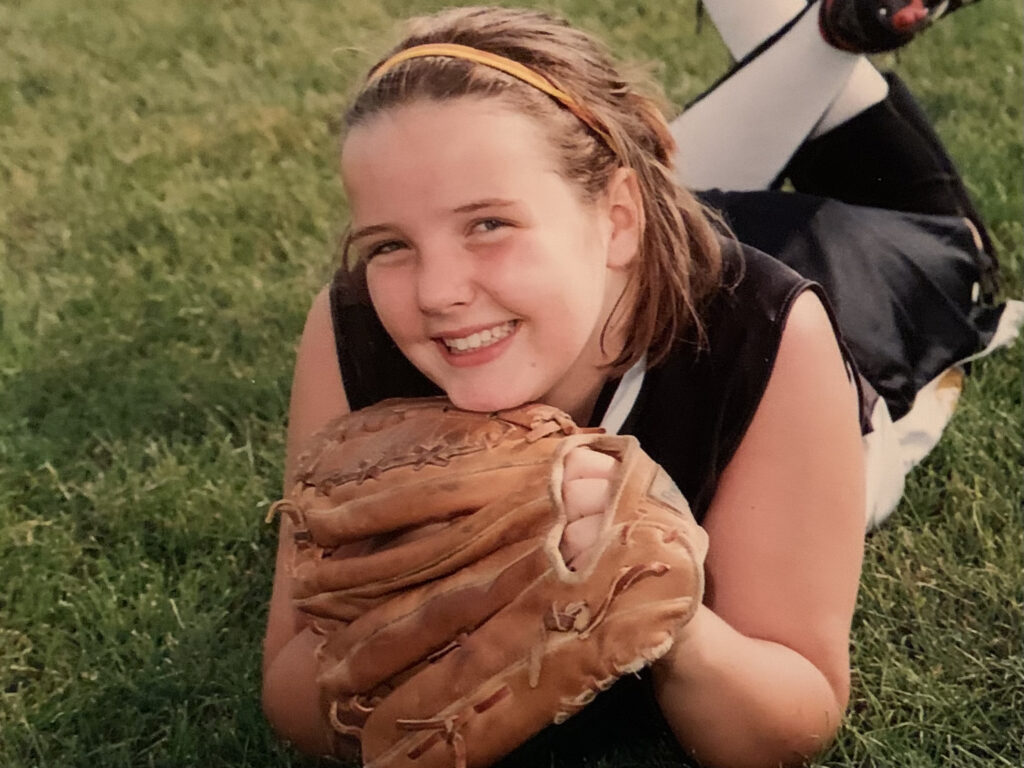 I, on the other hand, was more apt to sprint to the finish line only to start another race. School was about the shortest path to the highest marks, sports about earning the letter, friends more about what circle they ran in over who they really were, work was about the money, and on and on. In fact, I remember at a job interview in my early 20's, not long after moving back home from college, a total stranger after speaking with me for only a few minutes, interrupted me to say, 'I don't think you in this role is a fit for either of us at the moment and if I had one piece of advice to give you young man, it would be to SLOW DOWN.' I always had a suspicion that you had secretly set up the interview and told him to say that.
Whatever the case, fifteen years later, I am beginning to listen. I am teaching myself to cook and how to laugh and learn through all the delicious missteps. I am back in the weight room, this time for the enjoyment of pushing myself more than the muscles. I am reading and writing almost as much as when I was a kid and for the same reason; because I enjoy it. I am even letting Max and Christian teach me how to skateboard at age 39, mainly as an excuse to get to hang out with them all day at the park, but also to show them that it is ok to suck and keep trying.
It must be that at some point not long ago I accepted the fact that the roses are going to smell good with or without me, so I might as well slow down enough to add that small joy to my life. That working hard wasn't worth it unless I could find the fun and share it with others. And that each goal, dream, and destination is just the starting point of the journey to the next one. Or, to summarize, moving slow and steady down an endless, uncharted, but chosen path is infinitely more likely to produce happiness than sprinting along the provided public pavement.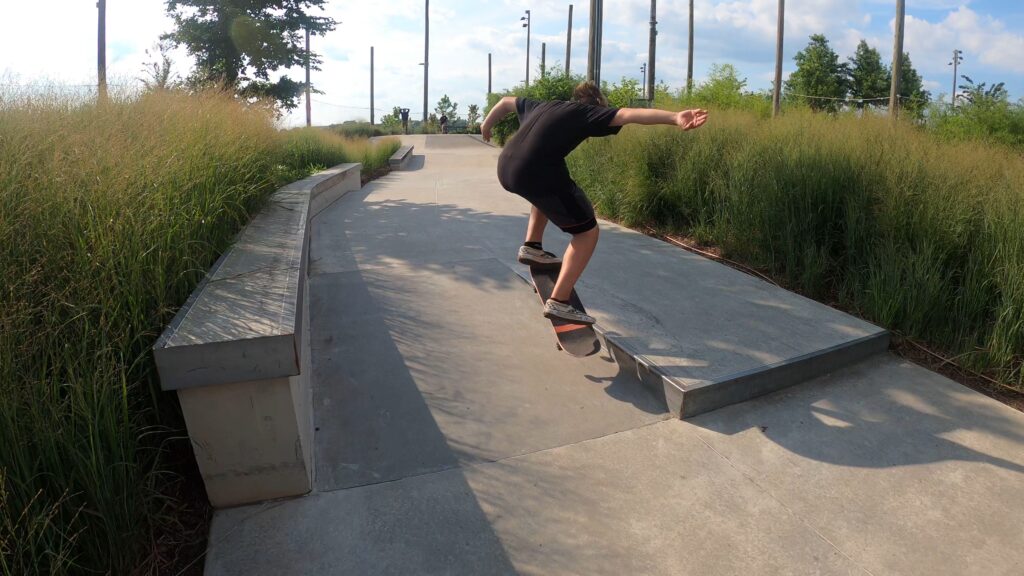 A former leader of mine, whom I very much respected at the time and still do, once introduced himself to an auditorium full of hard-working, blue-collar machine operators, technicians, and floor leaders by saying, 'Hope is not a strategy.' He then paused, instinctively waiting for the moment to land, and land it did, to snickers which grew into a swell of uproarious laughter.
He knew his audience; masters of the moment, skilled tacticians well versed in solving real-world problems under duress where abstract ideology and flowery philosophy fail to turn hardened steel crankshafts and 450 horsepower motors.
This was my clan then, and for as long as I can remember stretching back to my early days of 40+ mile bike rides, 10k+ runs, and early mornings in a canoe on the MN river with my dad from age eight to when I graduated to baseball, basketball, football, track, and various hard labor jobs shoveling rocks and wheeling wheelbarrows uphill; in all these endeavors I learned you either put up or shut up. Words were nice but they didn't get the job done, and if you couldn't outwork me, I didn't care what you had to say.
It was as if I was working the writer right out of me. The questions I hadn't answered, or much less asked were; why I was working so hard? To what end? What was it all for and where was it taking me?
Losing you caused me to start asking these questions and begin digging for meaning.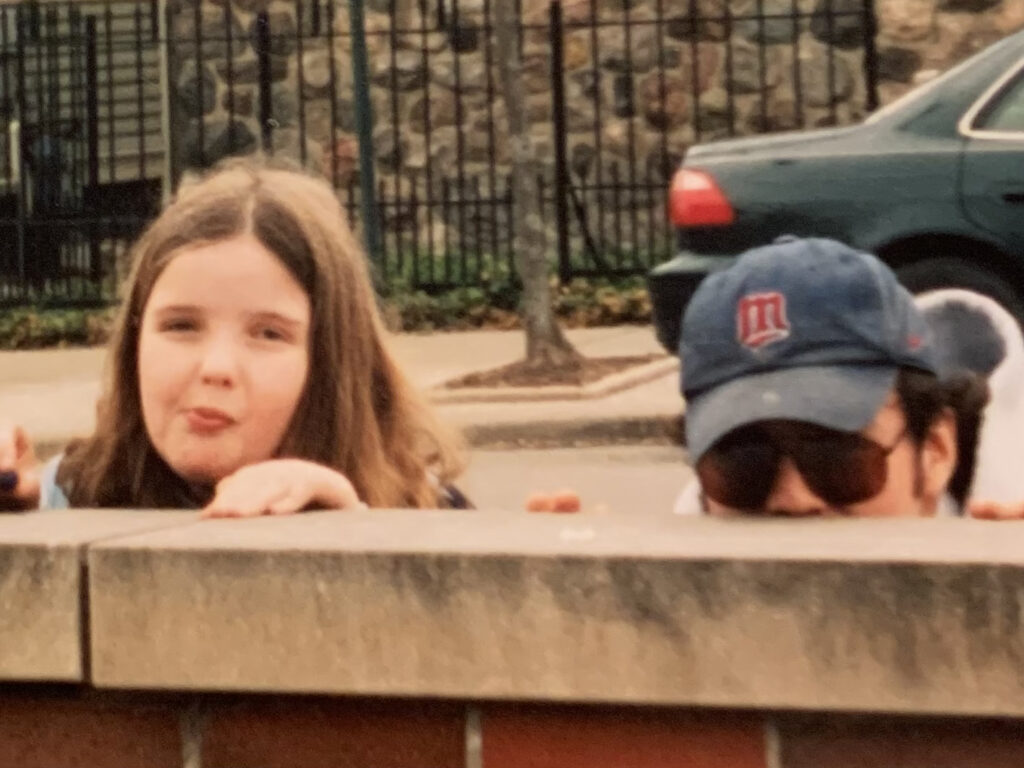 Helping me along was a deep, unshakable hope that wouldn't give up on me which, like a still small voice, kept urging me forward through it all. It was a hope that the real me, long ago buried by various hurts and hangups, would be rediscovered, revived, and gradually re-emerge from the depths made stronger by weathering weakness. It was a hope that would do whatever it needed to in order to get me to listen, travel down whatever path, refusing to quit prior to manifestation. It was the same spirit that animated your life and breathes life into these words.
This hope may not have been a strategy as much as a lifeline, but without it, I wouldn't have made it. The way I see it, in your final exhale was a gust of hope that was carried by a steady breeze of which I inhaled just enough to begin my rebirth.
And now, on your birthday, after eight long and winding years of struggling through the re-birthing canal, I find myself feeling more and more at home in my own skin. With what was once a thin wisp of hope for a better future, now filling my chest with confidence that it will be. Confidence that I can live out and up to your legacy of love in action for all of my days to come. Hope is happening, I am home.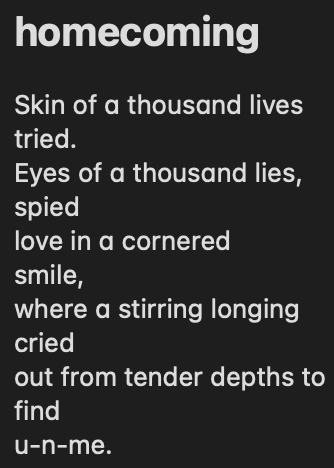 Rest in peace lil sis.